The three P's of Real Estate in Nigeria | Rielhomes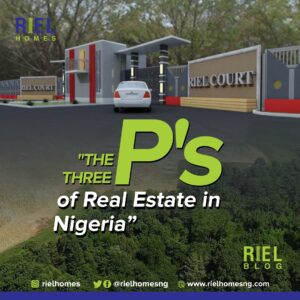 The three P's of Real Estate in Nigeria
Probably you own a property in Nigeria that you are willing to sell or put for listing, now let educate you on the three important P's of real estate that you need to consider which states Price, Promotion, Presentation.

PRICE
If you have by chance seen some properties still on listing for months and not even seen a single offer, then if we check through in. The Price action may be one of the reason of the action, because Price is very paramount in real estate and it helps from seeing Zero Offers to ringing offers.
You may have a sales agent that knows what he does concerning price and promotion, these people can advise you on comparable Sales in your vicinity and market conditions, this will help in getting the price right. GET THE PRICE RIGHT.
PROMOTION
Likewise, you can also get a real estatem marketexpert, using their knowledge and skills can make them undergo sales targeting which will make you connect to the right buyer and sell your property to the right client.
PRESENTATION
Now, Let talk about Presentation. Presentation helps create a moment of truth and it takes one picture for them to rule out a home. Presentation of property is key to getting into a home and creating that "wow" moment. The wow moment is the feeling buyers get within second when they enter the new property.
If you can grab the attention at instance, this provides more enthusiasim to overlook and past some of the negatives of the property.
The Three P's are most the basical ingredients to successful property campaign especially when it comes to real estate, when the price Action is right,promotion top notch and presentation "WOW".
Get Set for Ringing Offers.